A house full of spirit with a courtyard and garden
between Anjou bleu and Mayenne
Segré-en-Anjou-bleu, Maine-et-Loire
Pays de la Loire
FR
bed & breakfast, Pays de la Loire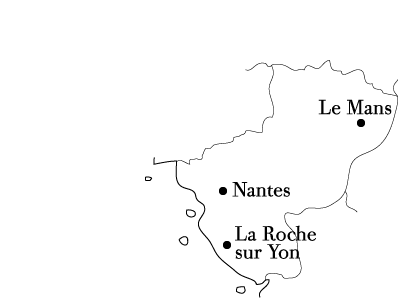 Property owners' take the floor
Why did you settle in this region, in this place and not elsewhere ?
Simply because my family are from this region.
What can you offer people staying with you ?
An undeniably atmospheric place. With a subtle blend of furniture and family heirlooms, I have reconstructed an "art de vivre" worthy of the Age of Enlightenment.
What specific architectural features does your building have ?
Montchevalleraie was built with schist and rubble on a regular U-shaped plan. On the southern façade is a complex skylight with Palladian characteristics, it features on a semi-circular pediment which is rare for the region.
Places you would personally recommend
There are some lovely restaurants such as "La table du meunier" and "Pigeon blanc" which offer products from the region. There is also an excellent baker a few kilometres away who invented the famous 'chocolat bleu' that symbolises the colour of the slate.
What is its history ?
The castle was built in the 18th century by a noteworthy family from Angers. The property remained in this same family until 1970 when it was leased to Mr Lamy, the former director of the Châtelet in Paris. It was therefore not uncommon to come across Luis Mariano here. It was in 1995 that I became the owner of the estate.

Our opinion
Montchevalleraie exudes all the charms of a family home. Both refined and colourful, its carefully reconstructed interiors feature the owner's collections and memories and merge with an English-style park and a romantic rose garden. Also within the chateau's six hectares of land are a conservatory, a well-placed vegetable garden and a pond – together they form a unique setting in the Segréen countryside.
Prices
between 130 € and 150 € / night

Ref 122951
Open from 1st May to 30th September
Accommodation capacity
5

2

2

All rooms are located on the noble floor of the chateau and offer views of the park and garden. Structured around a boudoir or a vestibule, they are decorated in the style of the times with fabric-lined walls and French or English furniture from the 19th century. They all have parquet flooring, antique carpets and come with large en-suite bathrooms and separate toilets. Each room has new bedding and bed sizes vary depending on the room –the Princesse de Lamballe Room comes with a queen-sized bed; the Marie Antoinette Room has a double and the King René Room has a slightly smaller double. The Princesse de Lamballe and the Roi René rooms also have stunning marble fireplaces.
Facilities and amenities
Wireless Internet connection
Other activities available here